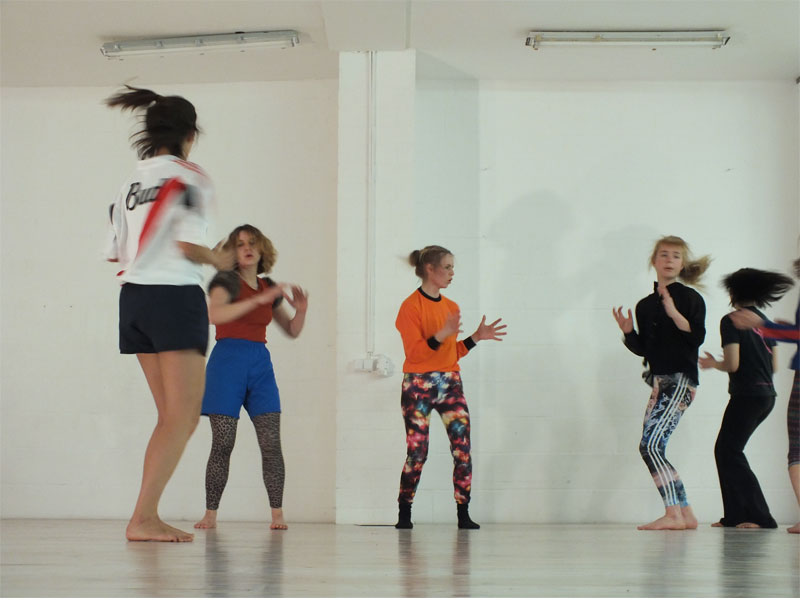 HUHUHU CHOREOGRAPHIC EXPERIMENT:

WHICH IS THE UTOPIC POTENTIAL OF A BODY THAT'S OUT OF CONTROL? WHAT CAN HAPPEN WHEN YOU GET CHANGING IMPLIED RULES CREATED IN THE RELATIONSHIP BETWEEN BODIES THAT ARE MOVED BY THE PRACTISE? WHAT LANGUAGE DOES IT PRODUCE? WHICH FORMS OF INVENTION DOES IT ACTIVATE? WHICH NEW POSSIBLE DYNAMIC CAN IT STATE?

HUHUHU is a ready made trance practice, obtained from the simplified meditation of Osho, it can be downloaded and visioned for free online. « Can I » has used it as an exercise for deconditioning. The purpose of finding a practice that can loosen up or shift the ordinary perception that we have of ourselves and of the world we live in. For an established lenght of time, the participants jump ,shouting « HUHUHU » The initial intuition to experiment with the participants, is that of an exercise that can trigger off or nevertheless create the conditions for a mechanism based on no established rules that are confirmed and modulated during the practice. The physical exhaustion moves the focus from the participants activity to the physiological. The vocal frequencies initiate a common feature amongst the Group, it becomes the gene that's halfway between the animal species and the human race.
• On a physical level, the experiment consists on submitting the body in recognizing resting strategies, loosening up the control of the body and negotiating other solutions as the exercise proceeds in on a non established negotiation of a rhythmic nature.

http://lakestudiosberlin.com/ / https://paolastellaminni.wordpress.com/portfolio/paola-stella/ https://monicagentile.wordpress.com/